Beer Guides to Cities
Around the World

It has been a little while since I have ventured to a beer dinner. It seemed like they have been occurring on a weekly basis. So what drew me to this dinner? I received a personal invitation from one of the chefs (always a plus), and it took place at a restaurant in my neck of the woods that I did not know existed (gasp!). On Tuesday, July 30th, my sweetie and I checked out The Volstead. Named after the Andrew Volstead, the one who introduced The Volstead Act which began Prohibition, The Volstead can be found at 351 Clayton Street. They have a good craft beer line up and a regular menu which can be found on their website, volsteadathens.com.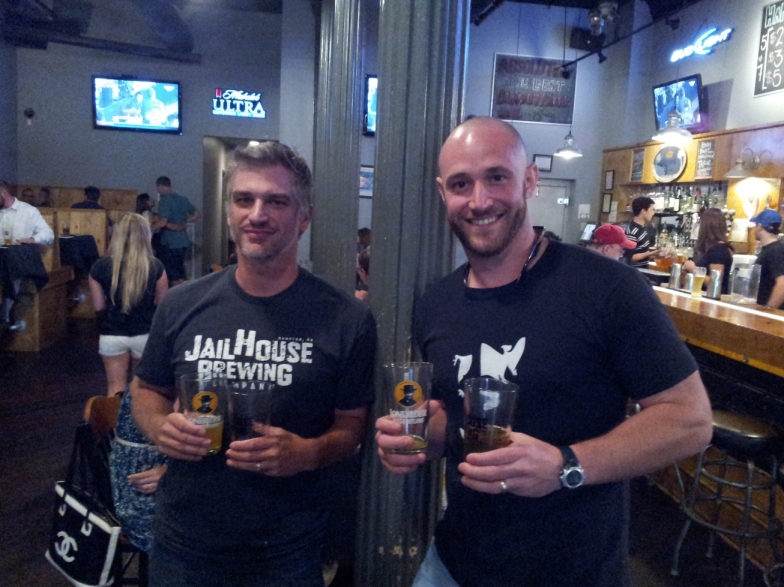 Glenn Golden of JailHouse and Zack Koenigsberg of LoneRider

Being held at the Volstead may explain the title of the dinner since a pub and grill named after The National Prohibition Act (The Volstead Act) comes across as fairly outlawish, but no, the name derived from the two breweries whose beers were represented-Jailhouse Brewing out of Hampton, GA and Lonerider Brewing out of Raleigh, NC. Eleven beers were served. I already knew that I love what the Glenn Golden and the crew at Jailhouse were doing, but this was my first taste of Lonerider. Head brewer, Zach Koenigsberg and his crew, I can now say, are doing it right.
We started the night with a cask of Jailhouse 4D with Amarillo Whole Leaf Hops. With our appetites whetted the pairings began. Whipped up by The Volstead's own chef, Aaron Jarrett, and guest chef, Richard Miley, who will soon be opening up his latest venture, Catch 22 Gastropub, the dishes were delectable. The cheese plate which included gouda, havarti, and brie with sides of crackers, honey walnuts and grapes paired well (depending on which cheese you were eating) with both the Lonerider Peacemaker and the Jailhouse Misdemeanor. Not to be outdone, the next course consisted of citrus seared scallops, pork belly, spinach, and tomato (minus the pork belly for me- was divine) tasted good with Jailhouse's Slammer Wheat and Lonerider's Shotgun Betty (Shotgun Betty won that round for me; sorry, Glenn). Following the scallops came a poach pear salad with arugula, walnuts, and bleu cheese paired with Lonerider's True Britt and Jailhouse's Reprieve. I must admit that I could not choose. Both beers paired well for different reasons. The "main" course of curried red snapper served with Carribean salsa, jasmine rice, and black beans was a spicy plate of fierce. I feel that Jailhouse's Mugshot IPA complemented this dish the best, but I absolutely loved Lonerider's cask Peacemaker with Sterling hops. Can you say hophead, boys and girls? Although our stomachs were stretched, we dug into the dessert of white chocolate bread pudding with gusto and washed it down with Lonerider's Sweet Josie and Jailhouse's Breakout Stout.
There were ballots given, and I think I may have circled a few numbers, but there were nothing but winners that night, especially those of us who were able to partake. I have been to dinners where I thought the chefs were crazy, the pairings either great or hit or miss, but I have to give a ten to both the brewers and the chefs for their efforts. I went home well-sated and in need of a good cardio workout. If this bit of information tantalized your tastebuds, please check out the breweries and the restaurants to create your own memorable beer dinner, and remember, eat well and drink good beer!