Brewtopia Events
---
Commercial Beers - Blind Tasting Results
---
Brewtopia Events Beer Travel Pages
---
---
---
Donisl
Marienplatz at Weinstr.
Central Munich

This tavern is the perfect place for your first beer in Munich. It is centrally located near the subway exit on the central Marienplatz square in the heart of downtown Munich and features a terrific menu and many of the Hacker-Pschorr beers and Paulaner Salvator doppelbock in bottles. The staff is very helpful and friendly and many of them speak English. The bar has a varied and somewhat checkered past, but now ranks as one of the best of Munich's beer halls.
---
Hofbrauhaus
Platzl 9
Central Munich
A short walk east from the Donisl pub will bring you to the amazing "Hofbrau House." Probably one of the most famous public bars in the world, the Hofbrauhaus has the unique ability of appealing to tourists, locals, and beer fans while still maintaining a pleasant atmosphere of a big Bavarian beer hall. We were lucky enough to visit in early April when the spring Maibock beer had just made its annual appearance. The Maibock is an amber lager with wonderful flavors of toffee, caramel, and rich malt -- and after just one liter of this strong beer, we felt like we had truly "floated" into Munich. Order a plate of sausages with your liter or buy a big pretzel from the strolling pretzel girls, and be sure to sit close enough to hear and see the fantastic Bavarian band.
---
Nurnberger Bratwurst Glockl
Frauenplatz 9
Central Munich
This pleasant pub is tucked away next to the Frauenkirche Cathedral very near central Marienplatz. Pick up a tourist map of Munich with a detailed city center area and this gem of a tavern will be quite easy to unearth. Many of the beers here are served from wooden barrels which lends different flavors and aromas to the brews -- this fact alone makes this small (but popular) tavern worth searching out. Try the house specialty Nurnberg sausages too.
---
Haus der 111 Biere
Franz-str. 3
North Munich
The "House of 111 Beers" is a modern beer bar with a very nice selection of ales and lagers from around the world. Most of the beers here are in bottles and cans, but a few nice selections can be found on draft. We had the draft Budweiser Budvar and the strong EKU 28 doppelbock in bottles when we visited. If you are a fan of flavorful beers, be sure to ask about their lineup of Bocks and Double Bocks. This bar is a short walk from the Munchener Freiheit subway station to the north of central Munich.
---
Paulaner Im Tal
Im Tal
Central Munich
This upscale pub is located on the busy street of Im Tal just to the southeast of Marienplatz across the street from the Schneider Weisses Brauhaus. It features the full range of delicious Paulaner beers made at the large Paulaner brewery in Munich. The Paulaner Hefeweizen (wheat beer with yeast) and Salvator doppelbock are heavenly. There is a small, attractive bar up front with large dining areas to the rear of the establishment.
---
Weisses Brauhaus
Tal 10
Central Munich
This tavern was once home to the famous Schneider wheat beer brewery until a bomb in WWII put an end to brewing operations. The brewery is now located in Kelheim (see below). The large and beautiful Weisses Brauhaus now serves up delightful German food along with the impressive wheat beers from Schneider. The menu includes the standard, rich German dishes of Bavaria and also features a vegetarian and seafood section. It is great fun to watch the bartenders fill the half-liter glasses of Schneider Weisse -- and they are more than happy to mug for your camera (as you can see from the photo above).
---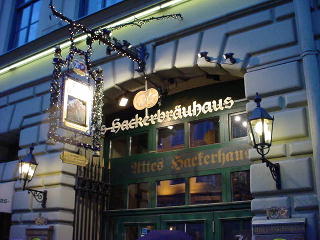 Hackerhaus
Sendlinger-str. 75
Central Munich
This location was home to a brewery in the 1500's and now is a tavern that features the outstanding beers of Hacker-Pschorr. The walls are decorated with memorabilia from the brewing past of Hacker-Pschorr, and the beer selection features the Helles (a golden lager with a malty flavor), Dunkel (a darker lager with caramelized malt flavors), Pilsner (a light colored lager with a spicy, hoppy profile), and occasional seasonals. Outstanding hot food is served all day -- including calf's lungs, roast pork, suckling pig in beer sauce, and a wide array of sausages.
---
Augustiner Gaststatte
Neuhauser-str. 16
Central Munich
This is one of the most inviting and authentic of all the Munich taverns and it features the fine beers of the Augustiner Brewery (one of the smallest breweries in Munich). The Maximator doppelbock is a dark, chocolately, malty beer with quite a kick. Helles, Dunkel, and Wheat beers are also offered. The food is very traditional and very Bavarian. This place can be very busy at dinner, so if you want to find a seat easily, try to stop by in the early afternoon.
---
Osterwaldgarten
Kiefer-str. 12
North Munich
Osterwaldgarten is tucked away on Kiefer Str. about five blocks east of the Munchener Freiheit subway station (the "House of 111 Beers" that is mentioned above is nearby). This neighborhood bar looks a lot like an English pub from the outside. Inside you can sample beers from the large Spaten brewery in Munich -- Helles, Dunkel, Pilsner, and Franziskaner Hefeweizen. The place opens early on Sundays for patrons to come in and enjoy a German brunch with a wheat beer. The scenic Englischer Garden park is just to the east of the Osterwaldgarten.
---
Schneider Brewery / Weisses Brauhaus
Emil-Ottl-str.
Kelheim

The Schneider wheat beer brewery moved to the small town of Kelheim after World War II when the Munich brewery location was bombed. Kelheim is a quiet town with a newly renovated pedestrian center. The heart of Kelheim is definitely the Schneider brewery and the adjoining Weisses Brauhaus restaurant and tavern. Schneider Hefeweizen is one of the best wheat beers on Earth with a dark color and extremely complex flavors of clove and banana imparted by the special yeast (seen being skimmed off the top of the fermenting beer in the above photo). The brewery is very impressive with gleaming brew kettles and a series of open fermenters. The rambling Weisses Brauhaus tavern boasts a varied set of rooms and a keller in which to enjoy your upscale Bavarian food and Schneider beers. Be sure to try an Aventinus Weizenbock -- a wheat beer brewed to a powerful Bock beer strength.
---
Hotel Aukofer Brau
Allee-str. 27
Kelheim

When the Ehrnthaller Hotel recently ceased brewing operations, this left Kelheim with only one other brewery other than Schneider. Aukofer Brau is located just off the pedestrian center of Kelheim through one of the town's arched gates. There are many buildings to this hotel and brewery, and we had to walk around back to the right of the brewery to find a door that opened into the hotel and dining room. Once inside, we were greeted by a friendly waitress who was more than happy to serve us samples of all the current Aukofer beers. The lineup included: Dunkel (refreshing, brown ale character), Kristallweizen (clean, clear beer with a light grainy flavor), Pils (nice herbal aroma and flavor - mild - not bitter), Weisse (earthy with hints of banana and bubblegum), Marzen (notes of cereal, corn, and malt), and Dunkel Weisse (very nice flavors of clove, wheat, toffee and caramel).
---
Brauhaus Joh. Albrecht
Schwarz-Baren-str. 6
Regensburg

The central Bavarian town of Regensburg is a must-see destination for any beer lover. You'll pass through the lovely hop-growing Hallertau region as you travel the few kilometers up from Munich. Your first stop in the old city of Regensburg should be the Albrecht brewpub that is centrally located in the old pedestrian center of town. This establishment is part of a small chain of German brewpubs that features an attractive, sparkling interior, superb food, and unfiltered, tasty beers. We sampled the Messing Helles (floral aroma and sweet flavor), Kupfer Dunkel (mild and malty), and the Weizenbier (odd aroma but very nice, spicy, citrusy flavor). These beers are all murky and unfiltered homebrews that have a rich character reminiscent of how German brews probably tasted many years ago. Serving the beers unfiltered provides a level of taste and complexity that is rare among most clean German lagers.
---
Bischofshof Gaststatten
Next to the Dom
Regensburg

The large Dom cathedral in the center of old Regensburg is adjacent to this comfortable old pub. The fine beers from Bischofshof are served here including the Helles, Pilsner, Dunkel, Wheat, and Weltenburg doppelbock. The place is beautiful, yet very friendly -- and the food is quite substantial!
---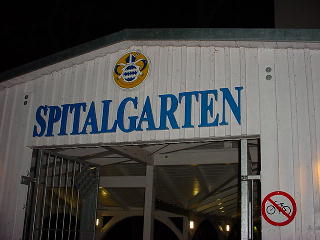 Spitalgarten
St. Katherinenplatz 1
Regensburg
This personable beer garden is located on the Stantamhof island just across the Steinerne Brucke bridge from the center of old Regensburg. Be warned that it is closed on Saturdays from October to May. The Spital beers that are served here are quite light and mild in flavor, but the charm of the place and the beautiful views of the Danube river will make the visit worthwhile.
---
Wurstkuchl
Weiss Lamm-str.
Beside the Steinerne Brucke Bridge
Regensburg

This pub that stands on the banks of the Danube River dates back over 850 years! It is loaded with personality and atmosphere; and with most of the seating being outside under a red and white striped canopy, table space can be at a premium at busy hours. Arrive around 11 am, go inside the door and purchase a take-out Bavarian sausage dog on a rye roll, then find a place outside to sit and order a Thurn and Taxis Hefeweizen or Pilsner. Enjoy your sausage and beer and gaze out over the lovely Danube -- you'll be in Bavarian heaven.
---
Alte Munz
Fischmarkt 7
Regensburg

Thel and Kerri are pictured above enjoying their wheat beers inside the beautiful, old Alte Munz pub near the Steinerne Brucke bridge in Regensburg. The Thurn and Taxis and Roggenbier (rye beer) beers are featured here along with a cozy, antique kind of atmosphere. The whole place is adorned with old decorations and furnishing, and the wait staff is friendly and efficient. Our lunch was superb with breads, salads, and rich Bavarian cuisine that was outstanding.
---
Herrmann's Domschanke
Pfauengassee 3
Regensburg

This small pub serves up all the flavorful beers from the ancient Weihenstephan brewery. It is quaint, comfortable, cozy, and located near the Dom. There is a small beer garden out back. Try the Korbinian Starkbier (strong beer) if it is being offered.
---
Zur Brauschanke
Galgenberg-str. 3
Regensburg

Walk toward the south end of the old Regensburg center down Galgenberg Street and you'll quickly see Zur Brauschanke on your left. Housed in an attractive, three-story, yellow building, this pub was one of our favorites in Regensburg. Upon entering we were offered a plate of traditional Bavarian appetizers by our lovely waitress, Anja. The Thurn and Taxis range of beers, Roggenbier (rye), and Salvator doppelbock were being served when we visited.
---
Kneitinger Keller
Galgenberg-str. 18
Regensburg

Turn left upon leaving Zur Brauschanke and walk up the hill to the loud, festive, Bavarian party center of Regensburg -- the Kneitinger Keller. The Kneitinger brewery makes some very nice beers -- including many served from wooden casks. The Bock is available in the winter and is malty, chocolatey, and not really very sweet. The beer garden here is huge with a gravel floor and plenty of tables. The dinner we had at Kneitinger was rich, filling, and outstanding.