---
Brewtopia Events
---
Commercial Beers -- Blind Tasting Comments...
---
More beer destinations on our Brewtopia Events webpage...
---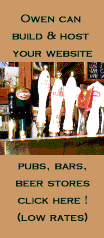 | | |
| --- | --- |
| LtoR: Dean Graves, Owen Ogletree, Mark Hall, Mark King, Joanne Mackey, Lou Villalba, and Lari Cowgill. Lou is co-owner of Burntstone Brewhouse, and did not help taste the Stouts, but he had to be in the picture since his brewpub's Stout landed our best score! We'd like to thank Burntstone Brewhouse for hosting us! | |
Each beer was ranked with an informal score of 1-10.
(10 - a fresh, perfect beer for its style / 1 - a beer that is completely not to style)
Style Descriptions
Dry Stout -- Dry stouts have an initial malt and caramel flavor profile with a distinctive dry-roasted bitterness (from roasted barley) in the finish. Some slight acidity may be perceived but is not necessary. Hop aroma and flavor should not be perceived. Light to medium body. Fruity esters are minimal and over shadowed by notable hop bitterness and roasted barley character. Diacetyl (butterscotch flavors) should be very low or not perceived. Head retention and rich character should be part of its visual character.
Sweet Stout -- Sweet or cram stouts have less roasted bitter flavor and more full-bodied mouthfeel than dry stouts. The style can be given more body with milk sugar (lactose) before bottling. Malt sweetness, chocolate, and caramel flavor should dominate the flavor profile. Hops should balance sweetness without contributing apparent flavor or aroma.
Oatmeal Stout -- Oatmeal stouts typically include oatmeal in their grist, resulting in a pleasant, full flavor and smooth profile that is rich without being grainy. Roasted malt character of caramel and chocolate should be evident, smooth, and not bitter. Bitterness is moderate -- not high. Hop flavor and aroma are optional but should not overpower the overall balance. This is a medium- to full-bodied beer with minimal fruity esters.
---
Burntstone Brewhouse Stout
Score: 8. Dark head / nutty aroma / caramel and chocolate aftertaste / bitter finish / roasty / good mouthfeel / nice bitterness / must be an oatmeal stout? / a very pleasant beer.

---

Dogwood Stout
Score: 5. Very light aroma of chocolate / fruity, nutty flavor / slight roasty flavor / tastes dry / caramel tones / light body and flavor, but drinkable / may be a bit old / coffee-like notes / slight bitter aftertaste is good / a pleasant beer.

---

Guinness (bottled version)
Score: 7. Aroma of caramel and roasted malt / carbonation bites the tongue / hop bitterness is nice / not extremely dry / slight coffee flavor / very roasty flavor / good and bitter / slight charcoal-like flavor / a bit of acidity / medium body / grows on you as it warms up.

---

Guinness (pub draft canned version)
Score: 7. Smooth carbonation (nice) / definitely a dry stout / somewhat watery flavor / light bodied / very little mouthfeel / clean and smooth / very quaffable / a touch of roast in the aftertaste.

---

Maclay's Oat Malt Stout
Score: 5. Aroma of butterscotch and caramel / flavor is dry with a slightly metallic finish / could be an older bottle / light to medium body / a hint of oats in flavor? / not very complex flavor / tastes more like a rich brown ale / coffee, roasty flavors lacking / not much bitterness / drinkable, but more like a nutty brown ale / a good beer, but lacking as a stout.

---

Murphy's (pub draft canned version)
Score: 4. Slight diacetyl in aroma / tastes like pub draft / watery / not much flavor or aroma / great head retention / not very roasty / a bland, but inoffensive beer.

---

Samuel Adams Cream Stout
Score: 7. Smells like malt / a great aroma / flavor has a hint of sherry-like quality, could be old? / very roasty flavor / great body / grainy finish / low hop character / dry, but with a good mouthfeel / tastes slightly sweet to one taster / a nice beer.

---

Sheaf Stout
Score: 4. Licorice aroma / otherwise, aroma is weak / dry / hop bitterness is present / metallic flavors / flavor of metal is somewhat overpowering / does not seem very roasty / there is a bit of coffee flavor.
---
Beers provided by ABC PACKAGE STORE, 2303 W. Broad St., Athens, GA, 706-549-1686.
ABC offers a fantastic selection of microbrews, import beers, and wines!